Our #franklins50 Challenge for Willen Hospice
A brief recap of the story so far…
On the 23rd January 2018, Indigo Medical was tasked to grow this:
by whatever (compliant) means possible over a period of 2 months, with 100% of proceeds going to the fantastic:
Did you know: Willen Hospice offers free services to patients but receives less than a quarter of their funding from the NHS. Willen Hospice therefore needs to raise more than £3.5 million a year! That's a lot of fundraising…
Thankfully, Franklins Solicitors stepped up and agreed to help Willen with a challenge that would involve local companies from within Milton Keynes, and the Franklins50 challenge was born.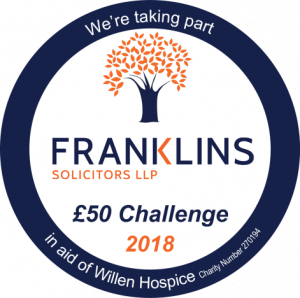 #franklins50
The Indigo Medical team promptly assembled a team, spear-headed by Captain Mo, seen here accepting the initial £50 investment from Amy Shaw (Corporate Partnerships Fundraiser from Willen Hospice).
The Indigo Medical INVEST-X team (INVEST-X, because it sounds cool; anything with an X sounds cool) were now ready for action!
#ChallengeAccepted
Eleven  Milton Keynes based companies accepted the #franklins50 challenge, with some heavy-hitters all vying to win.
First up, the classic "guess the bear competition", a quick way to double our initial investment and inform the companies around Eastlake Park of our challenge.
The INVEST-X & Indigo Medical team certainly had fun with the bear names…
…with the eventual winner, Clawdia Winklemann, chosen by Sue from Scripture Union:
With our initial investment doubled, it was time to organise the second event.
Everyone loves a curry, but rarely do people have time at lunch to buy one. So Curry in a Hurry was born. It was our CEO, Tina, that got busy to create an authentic home-made chicken biriyani (plus token salad).
This was a huge success with the neighbours, including the Cygnus team in Vega House, who broke the golden rule of "no food in the boardroom" to enjoy their lunch.
We also got glowing curry reviews from our neighbours at Scripture Union, Child Bereavement UK, MSD Animal Health and our lovely coffee barrista, Carol, from Cafe2U.
Then came the moment of truth – our ranking in terms of monies raised after 2 weeks of fundraising…
We were placed 5th in the leader board.
5th! (Out of 11)
However, only ~£60 behind 3rd place VW Group.
#mustdobetter
With plenty of time and a healthy following from our friends at Eastlake Park, it was time to up the ante and refocus our efforts.
Follow the INVEST-X progress as we move into the 2nd month of the challenge.
And if you are reading this and want to help support, either through donations, fundraising ideas or are interested to join some of our upcoming events, then get in touch with Sharaz (sharaz@indigomedical.co.uk)