#franklins50 A Game of two halves
The business end of the challenge to raise funds for Willen Hospice
The story so far…
To use some classic football cliches, our #franklins50 challenge first half performance saw the INVEST-X TEAM
have a great start early doors
put in 110%
be a great advert for the (charity) game,
but ultimately showed the other 10 "competitors" too much respect
Now, the INVEST-X team must regard
every game (i.e. fundraising event) as a cup final
and a shift is most certainly needed to be put in…
With the half-time oranges consumed, it was time to get the next round of fundraising events started
And what better way to shake things up than a fitness BOOT CAMP
A barmy army from Indigo Medical and Scripture Union braved a cold afternoon in February, with chief instructor Simon Williams from fitMK calling the shots.
Squats, burpies, sprints and shoulder presses were the order of the day, all performed around the beautiful back-drop of Willen Lake.
A post session thumbs-up and smiles-all-around…
… followed by a rapid adrenaline come-down for some.
Captions on a postcard please:
With energy reserves at a critical low, it was time to push Retro Sweets and Crisps
Flying saucers,
..black jacks,
…lemon bon-bons,
….wham bars,
…..chip sticks,
all heavily laden with an array of E numbers, but all snapped up on our first day of selling, thanks to good ol' 80's nostalgia!
A big THANK-YOU goes out to TNA Medical Ltd, Technet IT Recruitment, Cafe2U and Scripture Union for helping us with the tuck shop sale.
And a personal and special thank you goes out to CCube Solutions, who donated £50 to the cause.
After the brutality of Boot Camp and dental onslaught from Retro Sweets, a more refined and relaxing event was in order.
Step forward fitMK and a session of Yoga with Christine
A 60 minute session of of salutations, downward-dog, controlled breathing and general yoga awesomeness was a welcome break from the snow storm that raged outside.
Kudos again to the Scripture Union and Indigo Medical teams that participated and thanks to Simon from fitMK for organising another great session.
For more info on what fitMK offer, check out https://www.fitmk.com/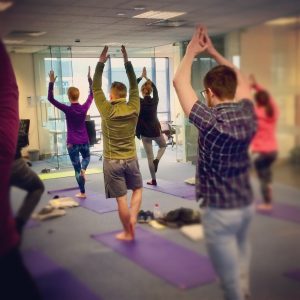 And so, with full-time approaching, it was important to count the coffers and get our new total
After 5 events we had grown the initial £50 investment to an incredible £610!
Not bad, but given that the top 3 fundraisers have all amassed over £1000, and the 4th place company currently on £850, that still leaves the Indigo Medical INVEST-X team with an overall 5th place…
…But wait, there's still extra time!
With 3 weeks to to go, and with a top 3 finish seemingly out of reach, it is time to bring on the super-subs for some last-minute frenzied fundraising in a bid to climb the leader board and finish 4th.
After all, every pound raised is a pound extra for the great Willen Hospice.
Join us in a couple of weeks for our final Fergie-Time blog, detailing the INVEST-X team's last efforts before deadline day on the 23rd March