#FRANKLINS50 CHALLENGE: so, how did we do?
The final run-in, awards night and reflections on this true team-building event
Allow me to remind you of the story so far: at the time of the last blog on the 5th March, INVEST-X, the fundraising arm of Indigo Medical, had amassed a respectable £610 from their initial investment of £50 in roughly 6 weeks .
This total had placed the team 5th out of 11 on the campaign leader board, and a good £240 behind the 4th place organisation. The aim to break the £1000 mark and hopefully clinch 4th place was still on the cards, but with time running out, the INVEST-X team needed action…
An emergency fundraising meeting was called by INVEST-X captain, Mo.
Here is a fly-on-the-wall account of the meeting (yours truly being said fly).
Captain Mo: O.K. everyone, it's time to pull out the secret weapon.
… stunned silence…
Vice Captain 1 Puja: Mo, what the hell are you talking about?
Captain Mo: You know. that big ticket event. The grandstand finish. The finale to double, no, triple our total.
The event I've been talking about since the beginning…?
… the team think back to earlier meetings and recall the mention of a big event…
Fundraiser Andreas: Mo, I think..
Captain Mo: …That's Captain Mo, thank you very much
Fundraiser Andreas: Um, ok, CAPTAIN Mo, I would say that the big event, whatever that may be, is probably unrealistic given the time. We only have 2 weeks and we have no venue, no-one booked and most of us are out next week on business.
… the team look at each other and soon come to the realisation that Fundraiser Andreas is right…
Vice-captain 2 Amara: So what can we realistically do in the time we have? We only need to raise 300-400 pounds from a couple of events.
Fundraiser (and CEO) Tina: A car wash?
… the team look outside at the icy roads and snow covered cars…
Vice-captain 2 Amara: Um, that doesn't look possible at the moment! Clearing peoples' drives would be more like it.
Fundraiser Andreas: What if we were to
PAUSE
It is at this moment that we should all acknowledge the monumental efforts that the Willen Hospice fundraisers (plus other hospices such as the Cynthia Spencer Hospice in neighbouring Northampton) put in, day-in-day-out to come up with ideas, launch initiatives and keep the money coming in. 
A reminder, that the services that Willen Hospice offers are free.

And that the annual running costs for the hospice are £4.6 million – but only part of this is funded by the NHS. 
A whopping £3.6 million is needed to be raised from donations by the local community – and it is the fundraising teams that make this happen on a daily basis. 

To continue the care offered, Willen Hospice needs to raise around £9 every minute from the local community. 
£9 a minute. Wowsers.
OK, with that in your minds, back to the meeting…
Fundraiser Andreas: What if we were to hold a cake sale. Or a another Curry-in-Hurry sale.
… the team now all look at Fundraiser (and CEO) Tina, for it was Tina that single handily made the first batch of curry and rice, getting up at 5am before work and bringing the 40 or so boxes of curry and rice to the office…
Fundraiser (and CEO) Tina: It was definitely our highest return event, with low overheads. But if we are going to do it, We'll need to reach out to a lot more people.
Vice Captain 1 Puja: Let's do it. What do you think Mo? I mean, Captain Mo?
Captain Mo: (Happy that his new-found Captain status has stuck) I concur. All in favour? (Everyone nods). We'll market the shizzle out of this event – far and wide. But what shall we call it? Something cool, something catchy.
… the team explore a number of clever food puns, some rude, some silly, and eventually come up with: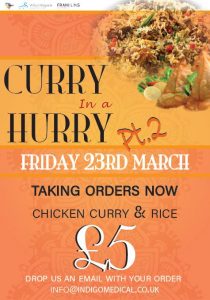 (Yes, with all the creative minds and marketing prowess in the room, the best they came up with is Curry in a Hurry Part 2. Surely Second Course or something like that would have been better…).
Anyway, as with the previous event, the team spread the word far and wide, and on the final day of fundraising, Tina awoke with the birds to make curry.
Again.
Awards Night 26th April
Fundraisers Ollie, Puja and yours truly made the short drive from Milton Keynes to the Northampton Hilton on the evening of the 26th April.
Upon entering, a show reel of pictures greeted the fundraisers, along with delicious canapes and refreshments.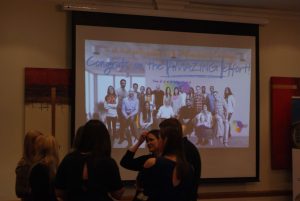 And then onto the awards.
Although Indigo didn't manage to usurp any of it's competitors and climb the leader board (we finished with a grand total of £910), we did manage to win BEST EVENT for our Curry in a Hurry!
And in case you are wondering, Coca Cola topped the leader board with a staggering £8,157! Amazing efforts from the Coca Cola team. And a shout out also goes to James from Greencore Group, who ran over 1000 miles for Cynthia Spencer Hospice.
Here are Ollie and Puja receiving the Best Event award, along with Amy Shaw from Willen Hospice and Helen Taylor from Franklins Solicitors:
But onto the main event: the total for the #Franklins50 Challenge.
after 2 months
and 22 competitors (11 raising money for Willen Hospice and 11 for Cynthia Spencer Hospice)
the total raised by this, the first #Franklins50 challenge of it's kind
was
…
wait for it…
£48,969.61
Double Wowsers!!!
And of the £48,969.61, over £32,000 will go to Willen Hospice!
A round of applause for all the teams that participated, and of course Franklins Solicitors for sponsoring the challenge.
And what did the Indigo team learn from the experience?
In short, loads.
Corporate team building events are often short lived and without consequence. We've all been on the kind I'm referring to.
But banding together for a worthwhile cause over 2 months really showed me, the casual observer in all of this, another level of team building.
During the challenge I saw:
Individuals who don't normally work together (i.e. work in different departments) build meaningful relationships.
Individuals in the fundraising team (predominantly not from Milton Keynes) that aren't used to this type of fundraising,  come up with some really clever and novel ideas.
At the half way stage, when the announcement that we were 5th in the leader board, I saw strong leadership from team members to keep the whole team / office motivated.
And we got to meet our neighbours, in particular some really nice people from Scripture Union, World Vision, Cygnus and CCube Solutions – as well as a partnership with fitMK.
So, for anyone reading this blog (and the 2 blogs that came before this), please do think about joining in for the repeat event next year. It really is a great way to fundraise, strategise, build relations and get to know your neighbours.
 Here's to planning for #Franklins50 2019. 
 END.