intriguing external webinar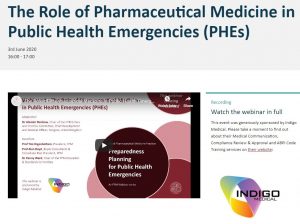 It's always a pleasure to help support our friends, the Faculty of Pharmaceutical Medicine , this time with first of their upcoming eight-webinar series on the theme of "Good Pharmaceutical Medicine Practice: Preparedness Planning for Public Health Emergencies".
The webinar, recorded on the 3rd June 2020,  has now been posted online (link below) and, amongst over items, covers the following important questions:
… has pharmaceutical medicine, as a discipline and practice, successfully contributed to COVID-19 pandemic? In what ways, yes? In what ways, no?

… how have patients been taken into consideration by pharmaceutical medicine during this pandemic? COVID-19 patients? Patients not affected by COVID-19 but whose needs are still real?

… has pharmaceutical medicine contributed to global cooperation in responding to the pandemic? How? And how not?
Featuring:
Moderator:
Dr Alastair Benbow, Chairman, EPC FPM; Chief Development and Medical Officer, Norgine, United Kingdom
Panellists:
Prof Tim Higenbottam, President of the Faculty of Pharmaceutical Medicine of the Royal Colleges of Physicians, United Kingdom
Prof Alan Boyd, Boyds Consultants & Immediate Past President, Faculty of Pharmaceutical Medicine; United Kingdom
Dr Penny Ward, Chair of the Education & Standards Committee of the Faculty of Pharmaceutical Medicine & Medical Doctor, National Health Service (NHS), United Kingdom
https://www.fpm.org.uk/events/preparedness-planning-series-webinar-1-the-role-of-pharmaceutical-medicine-in-public-health-emergencies-phes/
END