Indigo summer Sports Day

More of a school fun-day vibe, than actual "sports"
28-Jul-2022: a date etched in Indigo history.
The first Sports social, ever. And of course the first major social PC (post-Covid).
So what better way to prepare for such an occasion? Lunchtime pizza (with nominal salad option), zero-warm up and then Ready-Steady-Go!
6 teams, the usual attempts to cheat and a stunning display of strength
The "it's the taking part…" spiel is often out of the window when competition begins. It's just how it goes at Indigo.
And true to form, the mind-games and banter kicked-off during the first event: Egg & Spoon, which was surprisingly fast by all.
Then came the killer: individual sack race. Smiles soon turned to exasperated gasps for breath after this leveller. It did make for a couple of great action shots!


Next, the 3-legged race. Or maybe just a chance to give a hug to a work colleague? You decide.

A pause for drinks…

… followed by events involving a skipping rope, beanbag, hula hoop and carrying a football between legs. Minor casualties at this point, but still plenty of enthusiasm from all.
A quick look at the scores had the Orange team declared as the winners!

Which meant that the marque event was just seemingly added to eek out the last bit of energy from everyone. Yep, you guessed it, tug-of-war.
#heave
The Green team, literally anchored by Joe, destroyed everyone. Physically and emotionally.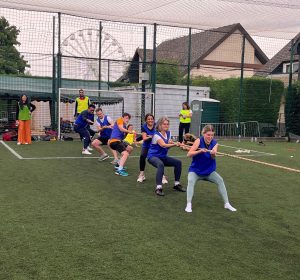 Then a quick game of footy…

… followed by a well deserved recovery drink / stretch.


A big thanks to the Indigo Social team for organising the event and to everyone who participated.
And the final word to Ollie, dressed in his favourite llama attire in the featured image. Good luck next week (nudge nudge, wink wink).
END.